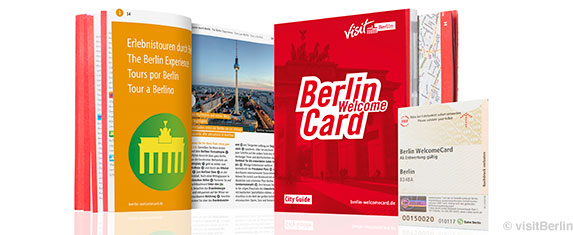 Refundable tickets

Price Match Promise

Bestseller









Berlin WelcomeCard
Berlín WelcomeCard je (takmer) všetko, čo potrebujete pri návšteve Berlína. Berlín WelcomeCard umožňuje neobmedzený verejnej dopravy (zóna AB alebo ABC) a veľké zľavy na viac ako 200 múzeí, prehliadky so sprievodcom, reštaurácie a wellness.
Čo je v cene?
- Neobmedzené využívanie verejnej dopravy (S + U-Bahn, autobus, električka, lokálka)
- Môžete si vybrať medzi 48, 72 hodín alebo aj 4, 5, 6 dní
- Cestovné vnútri zóny Berlin (AB) alebo Berlin + Potsdam (ABC)
- Deti do 6 rokov sú zadarmo
- 25-50% zľava na viac ako 200 múzeí, atrakcií a reštaurácií
- Praktický vreckový sprievodca
- Vytiahnite plán mesta Berlín + Postupime
Vyberte si svoj Berlin WelcomeCard
Môžete si vybrať medzi 48 hodín, 72 hodín, 5 dní alebo Múzeum Island 72 hodín Berlin WelcomeCard buď Berlíne (zóna AB) alebo Berlína a Postupime (zóna ABC).
Pozrite sa na mapu zón
TU!
Berlín WelcomeCards zóna AB sú vaild pre jednu dospelú osobu.
Berlín WelcomeCards zóna ABC sú vaild pre jednu dospelú osobu + max. 3 deti (do 14 rokov).
Múzejné ostrov WelcomeCards zahŕňa aj voľný vstup do všetkých múzeí na Múzejné ostrov (Museumsinsel) v troch po sebe idúcich dní. Niektoré špeciálne výstavy sú vylúčené. Zadarmo informatívny brožúra je k dispozícii v 5 jazykoch (angličtina, nemčina, taliančina, španielčina a francúzština).
Existuje zľava pre deti?

Nie, ale deti vo veku od 6 do 14 rokov starý cestovné zdarma spoločne s dospelým Berlin WelcomeCard sa zóny ABC. Deti do 6 rokov zdarma, pri cestovaní s platiaceho dospelého drží buď typ karty.

Ako môžem získať moje lístky?
Krátko potom, čo Vaša rezervácia je dokončený váš e-ticket bude zaslané priamo na vašu e-mailovú adresu. Stačí vytlačiť a priniesť ho na niektorú z niekoľkých kancelárií návšteva Berlína okolo Berlína a na letisko, kde ste ho vymeniť za svojho berlínskeho WelcomeCard.
Pozrite sa, kde sú kancelárie Visit Berlin sú
TU
!
Ticket categories
Child tickets are free: 0-6 years unlimited, 6-14 years max. 3 children. Please choose ticket number first, then zone and duration. Price depends on selected zone and duration.
Adult (15+)
Opening hours
Váš Berlín WelcomeCard platia buď pre 48 hodín, 72 hodín alebo 5 dní.
Book now
Fantastic:
4.6
– 286

reviews
Refundable tickets Refundable tickets
Refundable up to 48 hours before performance date. A cancellation fee of up to 20% pr. ticket may apply
Price Match Promise Price Match Promise
If you find a better price for this product within 48 hours of completing your booking, we will refund the difference in price in full.
Opening hours
Váš Berlín WelcomeCard platia buď pre 48 hodín, 72 hodín alebo 5 dní.
What's included?
- Unlimited use of public transportation in either fare zones Berlin AB or zone ABC.
- Card valid for either 48 or 72 hours - or 4, 5 or 6 days.
- Up to 50% discount at over 200 attractions, museums, restaurants and more.
- A pocket guide with tour suggestions and a city map.
- Bring up to 3 children of the age of 14 and under - they travel free of charge.
English helpdesk

+44 20 3870 3444
Need help with your booking? We will gladly answer your questions.